The Final Countdown for the 2016 – 2017 Sailing Season. The weather proved to be a spectacular autumn day with a light breeze which may have reached 10 kts somewhere, actually a gust of 12 kts was recorded at Sydney Airport.
In Blue Division 1 the start was problematical with a couple of yachts glued to the start line. The maxis, Irukandji and Soundtrack took control of the race and were pursued by The Etchells group and Blue Chip.  Forte and Foxy kept close. With Forte in ascendency at the end behind Irukandji and Soundtrack. Sadly Soundtrack is lost in the computer (again). Provisional handicap results to Irukandji from Foxy and Forte. Series results to Foxy from Eggshells and Blue Chip. Overall season results to Foxy from Blue Chip and Eggshells.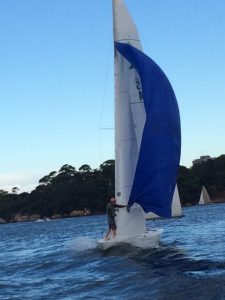 Eggshells demonstrating the use of the human spinnaker pole!
In Green Division 2 the light breeze at the start resulted in some degree of intermingling with the Blue fleet.  Hasta La Vista did penalty turns and this allowed Umzimkulu II to make a break on the fleet. StarElan also managed to head the rest pursued by Gwhizz and Hasta. Paca and Joka again were close and Flair continued to play 'catch-up'.  Umzimkulu II made it back first after and excellent sail ahead of Hasta La Vista after finally catching StarElan.  Handicap result to Umzimkulu II from Flair and StarElan.  Series result to Hasta La Vista and Paca equal and Flair next. Overall season to Umzimkulu II and Paca equal from Flair.