In the last race on Sunday April 9 of the Performance Cruising Division 2 Gwhizz won the race on handicap.
It was also comforting to see that boats in other areas get to stooge around blowing bubbles and waiting for the breeze to show up (see picture Courtesy David Edmiston) just like here at Greenwich..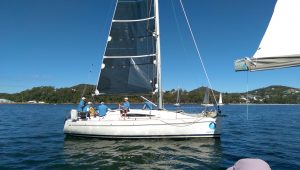 Both Gwhizz and Passion X finished sixth in their respective divisions in the 3 race Performance Cruising Series in this year's regatta; a very credible result.