A good fleet materialised to bid farewell to the Saturday Spring Series. The post-race discussion, amongst other things, centred on the balmy conditions and fair winds anticipated for the Summer Series which begins next Saturday (November 28).
It was good to see representation from a large number of competing yachts all sitting around the same set of tables rather than individually.  The camaraderie after racing is excellent.
Course 19 proved to be a good choice given the wind conditions which swung from SE to SSE and back to SE around 16kts with gusts up to 20kts.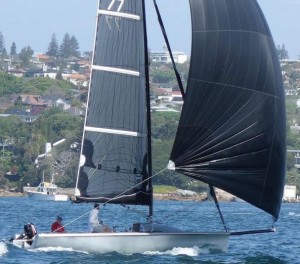 In Blue Division Solitude (Pictured – thanks AR) after scaring the starters in a final luff as they hit the start line managed to keep ahead of the other 11 boats in the fleet. At the end Irukandji were only 30 seconds behind with Blue Chip not far away in third just ahead of Sweet Chariot.  The Etchells, Eggshells and Saints II continued their close rivalry. Well-deserved series results went to Blue Chip from Eggshells and Gwhizz.
In White Division racing was close between Paca, Umzimkulu II and Flair. Highland Ghost made a valiant effort with only two crew in a 33 foot boat in the challenging conditions. Flair made several breaks only to find holes in the wind where the others didn't.  Paca were fast and were unlucky not to win on the water.
The leg along the Drummoyne shore for all the White boats was pretty tricky as it appeared that the DSC starter had released every conceivable boat in their control (Hartleys, Cherubs, etc) at once to tack up the narrows against the GFS fleet.  Series results to Flair from Umzimkulu II with Paca and Highland Ghost tied for third.