The balmy conditions expected of summer did not eventuate.  However, grey skies and a good breeze gave the GFS fleet a quick race on Course 18.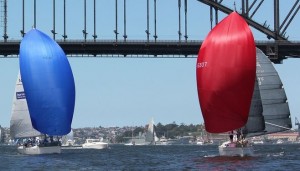 The addition of the Middle Harbour YC fleet contesting their 7 Islands race made for some extra obstacles.  The congestion was extreme around the islands as the DSC fleet added to the mix especially for the Whites along the Cockatoo shore.
Irrukandji revelled in the conditions and powered away to lead the Blue Division fleet getting home by 5 minutes.  Solitude tried to bridge the gap and were closely followed by Forte Forever.  There were several close races in amongst the fleet with Blue Chip and Eggshells always close as well as Gwhizz and Peach Teats Velocity. Handicap results went to Irukandji from Naughty Call and Gwhizz.
DJ's British racing green Foxy Etchells (AUS 758) must have been mistaken for the start boat and it didn't appear in the finish results.
In White Paca led from start to finish leaving Flair and Joka to swap places at various times.  Mistress were well suited to the heavy conditions and were well rewarded by second on handicap.