The wind prediction from earlier in the week did not eventuate, although the wind was from the south and south east. Course 19 provided a challenge especially with spinnaker runs and the bit back to the finish through Humbug. The 17 Endeavour yachts sailing their State and National titles also made for a bit of a challenge as one of their race finishes coincided with our start with both lines in close proximity.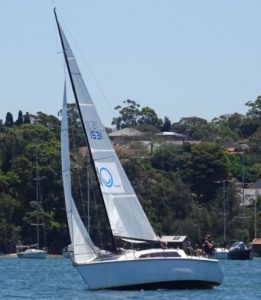 Blue Division 1 was again a good result for the Etchells with Forte Forever ahead of Eggshells at the finish. Blue Chip were third and the results remained in the same order through the computer.
In Green Division 2 the race proved to be a bit of a precession with Gwhizz leading by a good margin from PT Velocity and Flair (pictured). Paca made a strong run towards the finish. Handicap results to Flair from Gwhizz and Paca.
Next race is the GFS Saturday Australia Day Race – winners of both divisions will be expected to attend the presentation function at Sydney Town Hall. Harvey Porter will award the medallions to the second and third place getters at the club after the race.