GFS again participated as a 'satellite event in the Australia Day Regatta.  2017 marked the 181st regatta which is regarded as the oldest continuing sailing regatta in the world.
The results for our races in order first, second, third were –
Twilight Blue                    Gwhizz, Worlds Apart, French Connection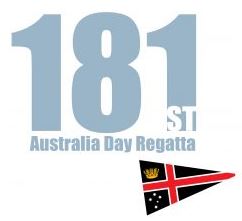 Twilight Green                 Tana, Out of Africa, Streetfighter
Twilight White                  Paca, Joka, Amateau
Twilight Orange               Barubi, L'Atitude, The Saints
Twilight Gold                    Disko Trooper, Gem, Mind/Matter
Twilight Black                   Soundtrack, Sweet Chariot, Dump Truck
Saturday Blue                  Forte Forever, Foxy, Eggshells
Saturday Green               Tana, Gwhizz, Flair
Sunday Laser                   Max Effort, Break Wind, Orinoco
 Sabot   1 Up                     Wildside
 Sabot  2 Up                      Sabotage
Medallions were awarded after the various races for second and third places. If you didn't collect yours they will be in the GFS Sailing Office.
The winners will be invited to attend a presentation at Sydney Town Hall on March 28 to collect their medallions.