This just showed how many races you can have at once Summer Race 6, Mick York Race 4, the GFS Saturday Australia Day race and final race of the Summer Series all in one. Thanks to Harvey Porter for stepping in to do the start and finish duties.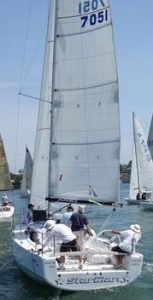 To add to the occasion the Sydney Amateurs Fleet were rounding Spectacle and Snapper Islands and the Middle Harbour Fleet were contesting the Bedlam Cup rounding a mark off the previous Gladesville Hospital at Bedlam Bay. Sure would have been interesting to see some of the Sydney Hobart sized yachts negotiate the narrows of the Parramatta River with a substantially falling tide.
Anyway back to the real world sunny conditions a strong NNE wind gave the GFS fleet a good challenging race. The start from the club was interesting and for the first time in my memory a general recall occurred for the Blue fleet.
Blue sailed course 41 and again the Etchells ended up dominant with Forte Forever, Foxy and Eggshells keeping the same order on the water and in the computer.  Series results to Forte from Eggs and Blue Chip.
Green sailed course 39 (same except missing the final rounding of Cockatoo).  Hasta La Vista and Tana made a break under the huge party boat that suddenly materialised just 100m after our start forcing some to go under and others above the obstruction. Gwhizz again were powerful and eventually gained the lead to be back ahead of Tana and Hasta. Tana scored a well deserved win on handicap from Gwhizz and Flair. Series result to Paca and Flair (equal) from StarElan (pictured).
Next race is Autumn Race 1 and handicaps revert to those at the end of the Spring Series.