Again the weather gods relented and provided an excellent day for a race.  The expected wind conditions were not as predicted by the various sources and exceeded the quoted 6 to 14 knots to reach 20 knots for much of the afternoon.
Again a good sized fleet set out on course 57 (57A for the white fleet) with 12 yachts on the water.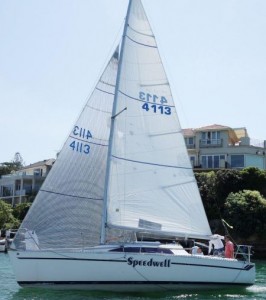 In Blue, Irukandji was powerful and made a break on the remainder of the fleet and Sweet Chariot finally overcame Eggshells and Blue Chip to make it back next. GWhizz, Speedwell and StarElan kept in contact with Speedwell recording a good handicap result.
In White, at last a healthy sized fleet emerged with the return of Paca, Highland Ghost and Mistress.  Paca and Umzimkulu II fought for the lead with Flair not far behind. As handicaps balance out with regular racing this will be a closely fought division.
Again a healthy group assembled on the 'Deck of Knowledge' to discuss a varied selection of topics, including the advantages of owning an Etchells, the upcoming rules night and why there was a vehicular ferry at Balls Head.
Thanks to Harvey for manning the start, apparently no one had their radios on and missed several of his jokes.