The wind came in to challenge crews and with gusts up to 28kts it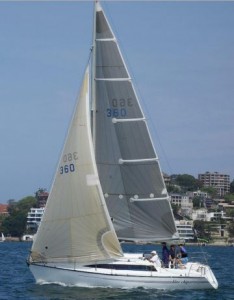 made for an interesting day on the water.  Course 13 added some tricky bits with disturbed wind around the Berrys Bay mark and the double gybe required to round Goat Buoy.
The blue fleet again had a healthy size with 9 competitors.  Irukandji powered away and kept in front for the duration of the race. The Solitude crew tried their best to catch them and the boat was leaping out of the water under their asymmetrical kite.  Blue Chip (photo courtesy Andrew Richardson) was not far behind and was well rewarded with the win on handicap. The Etchells battled each other throughout the race and Saints II reversed the on water positions to be second on handicap from Eggshells.
The white fleet sailed the shorter course and with 5 starters had a good race.  Umzimkulu II led from the start, revelling in the heavy conditions.  Joka challenged for the lead and made a break on Paca.  Highland Ghost sailed a strong race and recorded an excellent win on handicap from Umzimkulu II and Joka.
Race 6 results are here