Yesterday (April 23), at the start of Saturday Autumn Race 8 our starting area was visited by the Waratah a vessel which is part of the Sydney Heritage Fleet.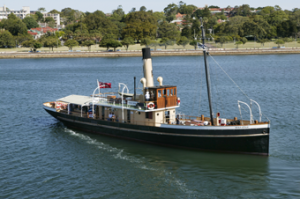 The Waratah is a coal fired tug and was built at Cockatoo Island, Sydney. She was launched on the 21st May 1902. Originally named Burunda, her primary role was to tow dredges and barges between the various ports along the NSW coast.
She is the oldest tug in working order in Australia. She carried a crew of 14, including six officers who were accommodated in separate cabins aft.
Her sea-going days ended in 1948 when, due to her age and condition, she was restricted to Newcastle Harbour until 1968 when she was acquired and restored by the Sydney Heritage Fleet.